Your Family Dental Practice in the Heart of Falkirk
General, Cosmetic, and Implant Dentistry
Welcome to Envisage Dentistry Falkirk
At our Falkirk dental practice, we offer a full range of dental services, covering general dentistry, cosmetic dentistry, and facial aesthetics. For more information on specific treatments, please contact us for further details.
We are delighted to welcome new patients. To register, simply give us a call at 01324 624630, and we will be happy to schedule an appointment or address any questions you may have.
As patient and staff safety remains our number one priority, we have plenty of Personal Protective Equipment (PPE) available with maximum surgery air extraction/ventilation.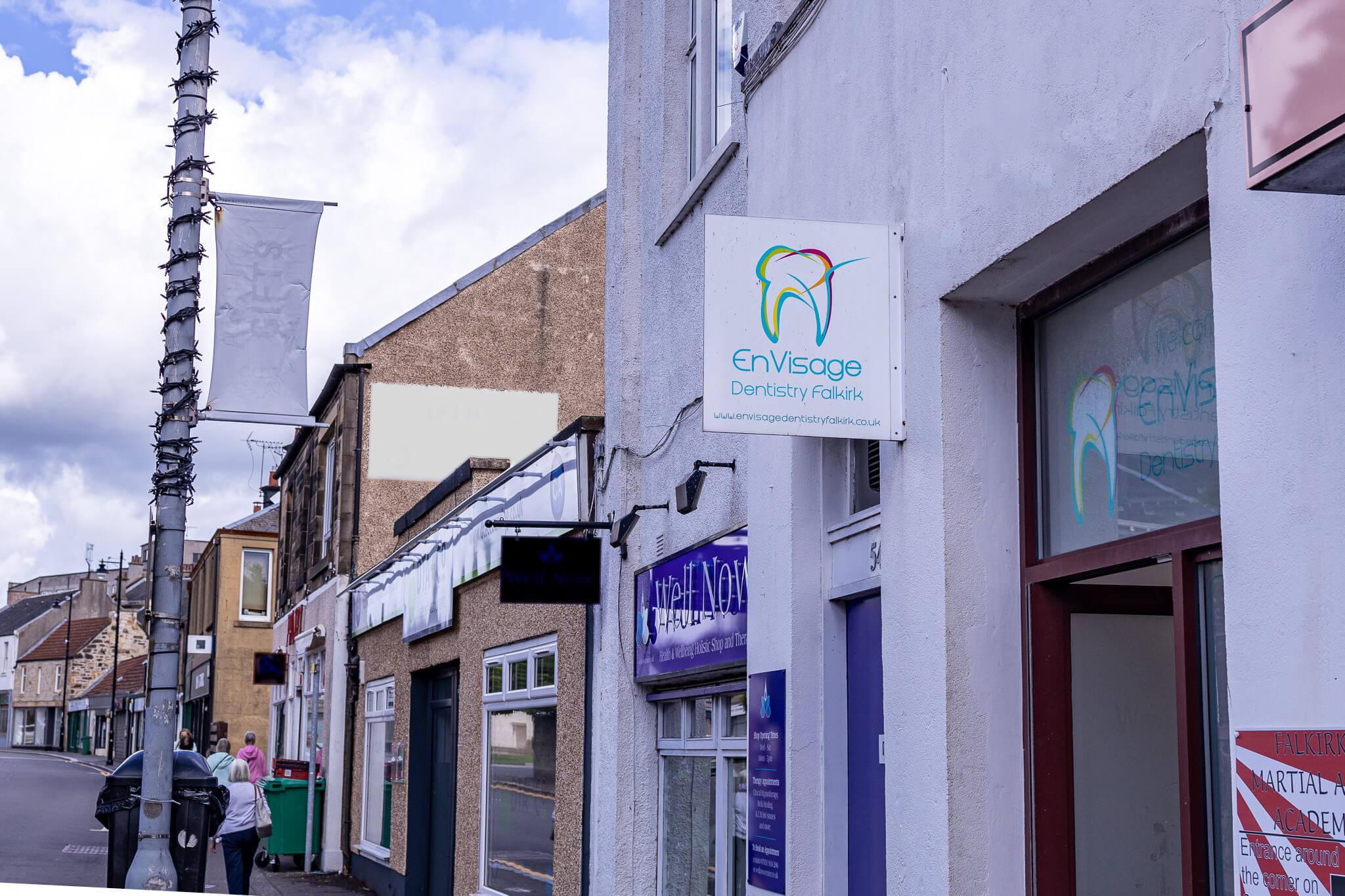 We offer finance options for treatments over £250 with Tabeo. Click below to find out more or get in touch with our dental team by calling 01324 624630.
Frequently Asked Questions
How often do I need to see a dentist for a check-up?
Even if you have wonderful dental health, we recommend visiting your dentist once every six months to address any problems as soon as possible and keep your teeth healthy.
How can I maintain proper oral hygiene at home?
Brush and floss daily.
Use products that contain fluoride.
Cut down on sugary snacks, eat a healthy diet with lots of fruits and vegetables.
Stay away from tobacco.
What can I do to whiten my teeth?
Over time, many people experience some kind of discoloration of their teeth. Our Boutique Whitening treatments can help treat stains caused by things like pigmented foods, coffee, wine and tobacco. You can also achieve a whiter smile with Airflow Polish. For internal tooth discoloration, we recommend Composite Bonding or applying Veneers to your affected teeth for a permanent solution. Contact our dental team to find out more.
I'm an extremely nervous patient and have needed sedated in the past for any type of treatment. Andrew and Chelsea are great and have helped me overcome my fear of the dentist and successfully get the work carried out. (18 month waiting list for sedation and would of lost a few teeth) I can finally smile again.
Had an appointment here after a filling fell out while in Falkirk working, very nervous patient, delighted with the work done. Andrew went above and beyond to fix my tooth, thank you so much. I would 100% recommend Envisage dentistry to anyone needing a dentist. Thank you so so much!
I truly can't speak highly enough of these guys and girls. I was personally petrified off dentists and had to fight hard with myself in my own mind to go and get my mouth sorted. My mouth was truly affecting my mental health and after explaining how and why I was so scared off there profession each and every one off them were brilliant with me before, during and after each visit. I am able to smile with pride now due to all there hard work and patience with me. Thank you 1 and all again and I'm now not scared to go to the dentist. Keep up the amazing work folks 👍👌
My teeth are in BAD shape and I can only praise the team at Envisage. Andrew is professional and understanding and I have nothing but confidence in him. I have so far had to get 3 extractions and though it was an uncomfortable experience, his confidence and assurance throughout the whole process was exactly what I needed. Going back to get more done next week and though I still am definitely not looking forward to it I 100% know I am safe in his hands. Nicola the hygienist is also one of the nicest humans I have ever encountered. Overall as much as I have a fear of the dentist and sensory issues with the work I've had to get done, I know it'll all be worth it in the end when I get my smile back and I'm so thankful to everyone in the team for the experience they've given me, even if I cried the whole time. I never thought I'd step foot in a dentist again after previous experiences, let alone feel unconditionally supported.
Great practice, friendly staff who sorted me out quickly and painlessly. Top teeth!
Benjamin Steven
2022-12-29
Had a great time, lovely practice great staff great smiles
As a nervous patient, I go to a dentist only when I am forced to, with extreme pain due to a previous bad experience. After one of those times recently and many teeth missing with extractions, I found this practice through my husband and son. They were confident I would find this practice suitable as I'm so anxious about going. Its to do with feeling ashamed of my teeth too that put me off. I had my first appointment with Andrew Davidson, who listened and understood my feelings about my self image, attitude to dental hygiene and visiting the dentist with anxiety. I found him approachable, calming with his confidence and to be a very good dentist. After making a treatment plan over a few weeks, I had worn teeth built back up, it looks real and very natural, I've been made top and bottom dentures to replace missing teeth, you would never know! I've had a smaller one done previously by another dentist, it didn't fit well unfortunately so I could wear it. I've also undergone local anaesthetic for an extraction and fillings, my anxiety was under control and I never missed an appointment due to this as I had before I joined the practice. The difference to my confidence, I've got a full set of teeth now although not all are real, good fitting, matching colour to my own, my worn teeth built back up to size, an extraction, fillings and a smile I didn't have for a long time. Many thanks to Andrew for being a confident dentist, who is good at his job and helped me move forward with my dental issues and anxiety. I will be attending more regular as I should from now on. I suffered needlessly with pain and bad teeth due to fear and embarrassment...I'm glad I got it sorted with the help of a great dental practice! Many thanks! 😁🦷
Patient feedback is so important for our team to help improve your experience at our Falkirk dental practice. If you have visited us recently, we'd love to hear from you. Thank you!